If you follow DIYdiva.net on Facebook, then you know exactly what MysteryMan said after he helped the dudes unload this veritable sea of cabinet boxes from the delivery truck on Friday. As you might expect, it contained an expletive.
As you also might suspect, I had to tear one open the minute I got home from work.
I am completely thrilled with all of the decisions we made so far on color and door style, although we'll have to wait another year until they're installed to see if we aced the layout as well. But there's no turning back now.
MysteryMan also commented on the lack of knobs and was quite astounded that cabinets didn't come pre-knobbed. Which the rest of us can respond to with a resounding thank god because who knows what cheap ugly drawer pulls the cabinet makers would leave us with?
Plus it wouldn't give me the chance to pull my hair out over yet another decision to make about the house. Here's what I'm looking at:
I originally thought I wanted cup pulls like these rustic pewter versions from Restoration Hardware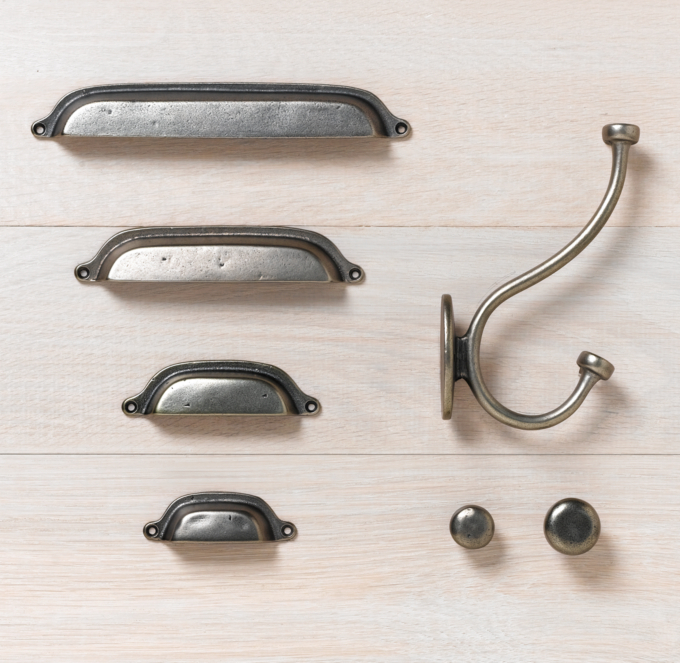 But, let's be honest, I want to be able to buy a stove one day, so I'm probably not going to pay $18.50 per knob for drawer hardware.
From CSN stores, this pull rings in at $6.80 apiece…
And this one also from CSN for $7.68…
Overstock.com also had some basic cup pulls for a much more palatable $2.50 apiece (or $12.89 for a pack of 5)
I'm also not entirely sure that cup pulls are the right answer. All of the bottom cabinets are drawers instead of doors, but the space on the top drawers might not be quite thick enough to carry these, so I'm also looking at handles like these:
Label pulls from Pottery Barn…
At $9 a pop, I won't buy them, since I don't love the finishes. And I was hoping for something with expose screws, kind of like this…
(For under $6 from CSN.) Again, not in love with the finish. This one may be a little closer to the mark…
And for a slightly higher price, this is more what I had in mind.
But the truth is that I've got a bedroom, a big closet, and two bathrooms I have to finish before I really need to start worrying about this. Which won't stop me, but helps put things in perspective a bit. Maybe I should go tile something now.