For someone who spends a lot of time putting words out into the great mystery of the Internet, I actually only have a few "daily reads", some of them are in the DIY space (more on those later), but in the last year I've found a few farm-related blogs that feel like kindred spirits as I've taken my first tentative steps into farm life.
If you're looking for a daily dose of rural living (from people who have more sense than to chase their chickens around the yard sans pants), here are the farms I follow.
Bonafide Farm
Bonifide feels like a kindred farm to me, with house construction, chicken chasing, and beautiful views.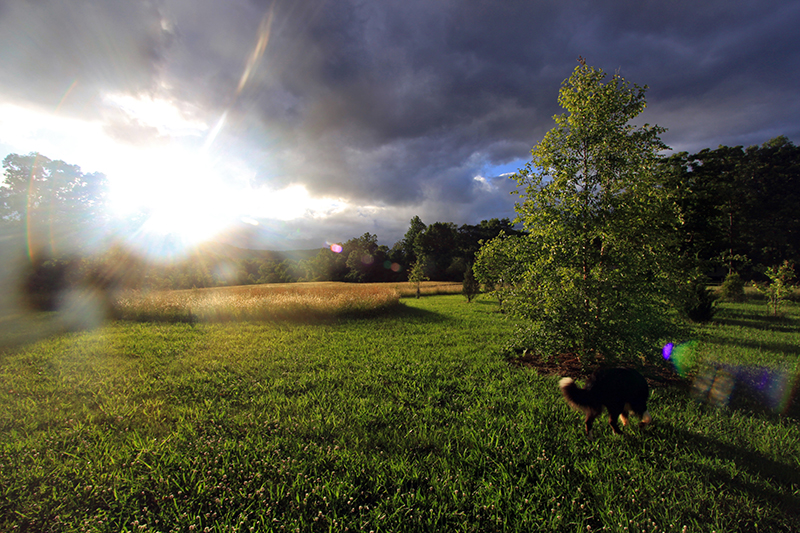 [Breathtaking image from Bonifide Farm]
Plus I love stories from women who run their own farms… it reminds me that maybe I'm crazy, but at least I'm not alone in my insanity. It's also a great glimpse into my future with things like potential chicken first-aid, hops growing, and raising guinea hens, which are all on my list.
Cold Antler Farm
Jenna from Cold Antler Farm really is one of my farm heroes. She runs a "working" farm (which means all the animals earn their keep) and some truly awesome workshops to support it. Plus she teaches archery, which is another skill I'd like to add to my list this summer.
[From Cold Antler Farm]
She's got a book– One Woman Farm— coming out soon, which is definitely on my to-read list, and my daily dose of CAF helps gives me a glimpse into what it's like to live off your own land. I may get there one day, but I'm going to have to do a lot of toughening-up first (give me a hammer and nails I'm good to go, ask me to raise something and then slaughter it for food… I'm crying like a girl.)
White Feather Farm
White Feather Farm is a different kind of farm blog. There's less about farming and more about inspiration for living life in general. If you've been on DIYdiva for more than ten seconds, you know that I wander into the territory of spirituality about as often as I willingly do a load of laundry before every single pair of jeans I own is dirty. Which is to say never.
[Image of unexpected beauty from White Feather Farm]
Which is why even I was a little surprised that this website resonated with me, but it does. Reading these posts always give me at least a brief moment of reflection in my very hectic chicken-chasing life.
And, lest you think I'm totally gender-biased on my feed reader, I also follow a bunch of stylish dudes with beards too. Oddly, none of them farm, all of them pay more attention to fashion than I do, and I swoon over the facial hair on these sites daily. What? Every girl has her thing. I like flannel and beards.
All Plaidout
Seriously? All Plaidout? I mean, just for the name alone I would follow this dude.
The site and content aren't really relevant to me or my life on the farm, but that's the beauty of the internet. You can follow someone's story for no reason other than because you find it compelling. And sometimes get to see gratuitous pictures of dudes with beards.
Secret Forts
Because Secret Forts are awesome. And so is the stuff on this site:
A Very Modest Cottage / Camp Wandawega
I'm actually pretty sure I found both of the sites above from directly or indirectly from A Very Modest Cottage, which is the blog about Camp Wandawega (and other awesome things.)
I knew I was meant to follow this place, not just because it's gorgeous and has an enviable treehouse (that you've probably seen all over pinterest), but because sometime last year there was a day when two of my favorite DIY blogs mentioned this site, and then not 20 minutes later I'm talking to one of my co-workers from Chicago who starts telling me I should check out the website of some friends of his that have a camp in Illinois and lo-and-behold… Camp Wandawega again. I took that as a sign and have been reading them daily ever since.
So that's what's on the farm/flannel section of my feed reader (by the way, if you're a Google Reader user, you know that shit is going down, like tomorrow. Or next week. Personally, I use the Pulse app on my iPad because I love the layout and seeing thumbnails from posts.) Daily DIY fix coming soon, what are your daily reads?