I miss my garden so hard right now, you guys. When the temps in Michigan start getting down to, oh, a million degrees below zero, everyone starts talking about taking warm-weather vacations: Florida, Texas, Cali. I'm not hating on those ideas, but I'm not interested. If I could have anything right now it would be just one evening here…
Glass mason jar of wine, chickens following me around, tomatoes straight from the vine. Yes, please.
But barring the invention of a time-travel machine or a magic wand, I've got a good four months until I'm back working in that little slice of heaven.
So, instead, I've been thinking a lot about what I'll be doing differently in the garden this year. Because, honestly, despite getting the fence in and  adding five new raised beds, and planting a ton of new things, last year was still kind of a bust as far as the actual harvest went.
First, the good things:
The fence is up! Last year my garden was just five random beds in the middle of my yard, but now it's a legit "space" on the farm.
I put four new raised beds in this year, which meant shoveling a ton of dirt and gravel to fill the beds and walkways. (This was way easier to do with the tractor prior to having the fence in, by the way.)
My mom bought me a bunch of berry bushes that we planted, and they survived the Summer at least.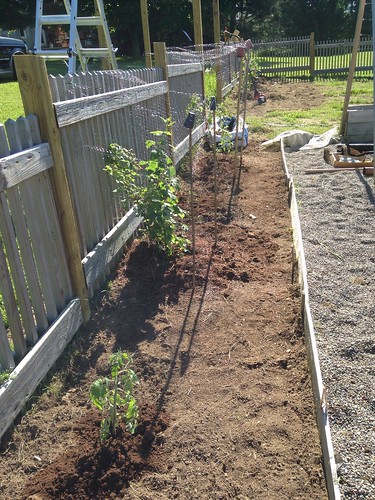 I managed to till up and plant the border beds with berries, herbs, and a lot of other awesomeness that should come back every year.
But nature also provided me with a lot of "teaching moments" this year too. Here are the major lessons I learned:
1.) Don't start seeds too early – Last year I got super excited for spring and ended up starting a bunch of seeds indoors in late-march,which was not good. The plants got way too big indoors, and things were still frosting outdoors, and I had a constant low-grade sense of guilt/panic about planting everything. And then, of course, I planted things too early and at one point I found my mom at my house when I got home from work, building little makeshift tents around all the plants with, like, dishtowels, because she heard a frost was coming.
Seriously. Dishtowel tomato tents. That's a real thing that happened.
So, this year I'm going to be smarter about when I start things indoor (late April) and when I plant them (early June) and I'm also going to remember to buy more dishtowels because you never know.
2.) Plant hybrids not heirlooms – I also jumped on the heirloom bandwagon last year big-time and ended up planting fourteen tomato plants (which is way too many) almost all of which were killed by some kind of blight. I had zero tomatoes "left over" to can, and barely enough to enjoy. There's a reason hybridized plants were created, and its because they're disease resistant and yield more with less work, so I'm going to go back to the types of plants I grew two years ago– Early Girl, Big Boy, Roma, and maybe just one or two heirloom varieties for fun.
They're pretty, but that's pretty much the full haul from 14 plants…
3.) Plant bush beans, and more of them – I've only ever planted green beans as bush beans, until last year when I (accidentally) started vine-style beans. The vines take a lot more management (and are harder to weed) and the beans all have the tough string that has to be removed, that I never had to worry with bush beans. I choked on that thing so many damn times last summer, I'm done with it.
On the other hand, my mom started some kidney beans for me last year, just a few plants, which were awesome and when harvested, gave me about a cup of dried beans. I'd love to have a ton of these to use in soups and other winter dishes, so I'm upping the number of bush beans (of all kinds) that I plant in spring.
4.) Plant the corn on time – Because I was trying desperately to remove all of the sod (and finish the fence, and a million other I'm-excited-it's-not-snowing-anymore projects) I didn't get the sweet corn in on time, and I didn't get the glass gem corn in at all. Since I planted late, my corn only grew about three feet tall, and there were only a couple useable ears out of it.
So there were no corn salsas, or corn salads, or corn on the cob last year. And that was sad. But highly motivating for this year…
5.) More raised beds – Every time I post something on raised beds people ask me why raised beds instead of just planting things in the ground? Here's why: weeds. I don't know how other people manage their "row" crops, but even after cutting up and removing all of the sod, tilling, and mulching with straw between rows, I still ended up with 5′ tall weeds on that side of the garden. Yes. Taller than my corn plants. My raised beds, on the other hand, have great soil, great drainage, don't get attacked by the local cottontail population nearly so much, and are so easy to weed.
Yes, it is a pain in the ass to build them, dig the holes to set them in the ground, fill them with dirt, and then shovel all the gravel for the walkways. But still… well worth it.
6.) Plant my favorite veggies – Somewhere in the whole "seed-starting/planting" debacle I missed out on growing some of my favorite veggies– there were no zucchini or brussels sprouts, or asparagus, or potatoes in my garden last year, so I'm determined to be more on top of things this year. And, luckily, I have a big list of the things I need to plant so that I don't miss out on a great harvest this year…
I probably won't get it all done, or all right, but I'm determined to make some major progress in the garden this year.