Granite sounds all well and good until you hear $30 per linear foot and your eyeballs pop out of your head. I've tiled almost every counter I've come across for the last 5 years– kitchen, bathroom, laundry room– you name it. A couple of sheets of MDF and some tile, you've got something that looks better than Corian or laminate for a fraction of the price.
Check it out…
2″ blue tile from Lowes for less than $2 per square foot. The entire kitchen counters and backsplash cost around $250.
3/4″ glass mosaic tiles came in at around $7/sf. Still considerably cheaper than high-end materials.
And these 18×24″ ceramic tiles were around $5/sf….

What I'm saying here is that the possibilities are endless, and not that expensive– particularly if you're willing to get your hands a little dirty. Let's have some fun, shall we?
What you need to build counters for tile:
Something to set it on, like a cabinet, or legs
3/4″ MDF or plywood, doubled up
Various saws (if you need a sink hole, you'll need a jigsaw, otherwise a tablesaw will do- or have them cut it at the lumber yard)
Drill
Screws
What you need to tile counters:
Tile
Tile adhesive
Grout
Notched trowel
Grout float
Tile saw or tile nipper (depending on the size of your tile)
Buckets
Sponge or rag
Grout sealer
I'm going to take you through building the counter, and then some differences between those itty-bitty tile and the big 24″ slabs. (And just in case you can't get enough of tile, here's how to tile floors, and here's how to tile walls.) Some days I never want to see a tile again, if you can imagine that, but luckily that day is not today.
Building Counters for Tile
People might say things about fibercement board and blah, blah, blah. Do it if you want but really all you need make a counter fit for tilin' is a couple of pieces of MDF. I'm in the midwest and I've never had an issue with shrinkage or grout cracks, but to each her own.
Start with a cabinet of some sort, or table legs that need a top, or an old door you want to turn into a desk, or whatever. We're not fussy here.
I always get my MDF cut in half lengthwise at the lumberyard if I'm going to make a counter out of it. I trim it up at home, but it's easier to fit in the SUV that way.
Standard counter depth is 24-ish inches. I say "ish" because if you're building them you can fudge it an inch or so to keep from needed to cut as many tile. Counters overhang 1/2″-1″ in the front. I tend to make up for this by sticking a 3/4″ piece around 6″ wide behind the counter to create the backsplash. But let's not get ahead of ourselves… these are just things to keep in mind as you're cutting your MDF.
Step 1: Cutting
For a sink-base, cut the MDF to length, then use the template that came with the sink to cut out the hole.
A drill gets the big hole started…
And a jigsaw keeps it going…
Once the first hole is cut, I test to make sure the sink fits and that I don't need to make any adjustments before tracing and cutting the second piece.
And then the dry fit…
Perfecto!
Step 2: Installing
In my case I needed to cut access holes into the back of the cabinet and install it before attaching the counter. Which meant a lot of contorting myself into tiny little spaces.
The counter is attached with screws through these plastic brackets.
Which are extra fun to reach…
Installed counter with sink dry-fit.
Pretty easy, huh?
Tiling Counters
Step 1: Lay 'em Out
I'm not saying with smaller tiles the layout is less important… okay, actually, yes, that's exactly what I'm saying. But it's still important. (Check out this post on installing wall tile for more detailed information on layout out small tiles.)
With larger tiles it's particularly important to check out where your grout lines will fall, and how your tiles should be spaced. In any application, the tiles should be centered — don't just start at one end and then cut the tile at the other end. Your whole life will look lopsided like that… trust me.
With large tiles I wanted the smallest grout lines possible, so I laid the tile out with with 1/8″ spacers. To minimize cuts, I used 18×24″ tiles on the counter, and 4″ tiles on the backspash.
Step 2: Stick 'em Down
Tile adhesive should be chosen based on the size and type of tile being used. While the adhesive I used was for up to 16″ tile, I felt comfortable using it since it's not often my counters receive high foot-traffic.
For small mosaic tile, I ditched the notched trowel and just spread on as thin of a layer of adhesive as I possibly could.
Like, paper thin.
For the larger tile, I used a 1/4″ notched trowel to spread on the adhesive. In this case I chose to do the backsplash first…
And here's the adhesive for the big tiles.
I put the adhesive on a couple of tiles in advance, then lay them, then spread a little more adhesive. Just in case I run into something unforseen.
Here is how the 4″ backsplash tile went on. Push in and give it a little wiggle to make sure it's firmly adhered.
In this case I shimmed the tiles just a bit to keep them level with the top of the backsplash.
Then the counter tile went on, one extra-large tile at a time.
I tend to put the whole tiles in first, and then do all my cuts at once. I hear people who really know what they're doing cut as they go… but as usual, I choose to do my own thing. (More on cutting in a minute).
For the mosaic tile, it was all about cutting the 12×12 sheets into manageable sections. In this case it was lucky that two whole tiles covered the lip of the counter without any tile-snipping.
Step 3: Snipping, Sawing, Snapping
There really are so many different ways to cut your tiles down to the right size. Here's a few that work for me in different situations.
For small glass or ceramic mosaic tile, tile nippers are your best bet. And no, I don't make up the word "nipper" for a laugh, swear to god, that's the technical term for them.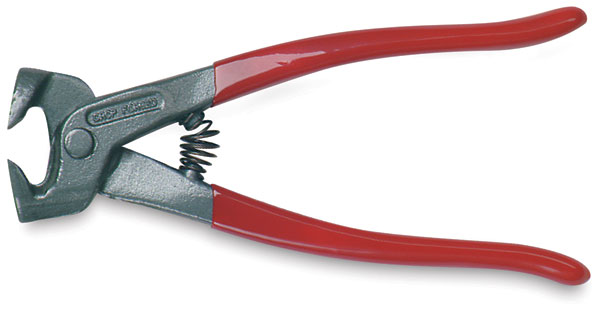 Nip where appropriate, and voila! Tile is all in place.
The larger tile are quicker to lay, yes, but the cutting stage is where you have to spend a little more time with them.
To get the rounded sink hole opening in 24″ tile, I started by tracing the overlap.
Then used the wet saw to notch the area that was being removed.
To ensure none of the little pieces went rogue when I snapped them off, I started by scoring my traced line with a utility knife.
Then grabbing a hold of those babies with the nippers and giving them a good yank.
And after a dry fit, you can see that took care of the sink hole.
There were still tiles to cut for the top of the backsplash and the lip of the counter, however, and I found that with the type of finish on the ceramic tile, the wet saw was tearing the edge up.
While I prefer the wet saw for control, a score-and-snap style cutter was a better choice for keeping a clean edge on these pieces. The "cut" is not a straight, but the overall effect was way better.
See?
This is the part where you get to play with mud. Fun! Grouting is actually a big old mess, but fairly easy.
There are a number of different types of grout — sanded, unsanded, colored– I'm a traditionalist and almost always use sanded grout, because I like it.
For sanded grout, mix according to package directions. I never measure, but I'm sure that's a bad habit. Once it's about at the consistency of toothpaste, you're good to go.
For small tile, it's just a matter of spreading grout over the whole thing, making sure to push it into all of the little cracks.
For larger tile, there's no need to make such a mess. I do one swipe across the grout line…
And one swipe with the grout line…
To make sure I've gotten the whole crack filled.
My rule of thumb is to let it sit for, oh, 10-20 minutes before doing the first wipe with a wet sponge or rag.
After the first wipe– where you should remove most excess grout– let it sit another 30 minutes and then give it one more wipe with a damp sponge.

Step 5: Clean Up
Then you need to go over everything with a dry cloth to remove any excess grout haze. You can do this an hour or so after the final wet wipe, or the next day if, like me, you tile after midnight and at some point need to get some sleep.
Also, note the use of painters tape to keep grout from getting all over my wall. It definitely helps keep the mess in check.
Step 6: Seal It Up!
The hard work is done, people. Now just a spritz or seven of grout sealer to finish everything up, before you're ready to stand back and admire.
And that's all there is to it. A little wood, tile, glue, and mud, and you've got gorgeous and unique counters for a fraction of the price of other counter materials. Go forth and tile, my DIY friends.
If you have any links to great tile counters in your home, make sure to leave a link so we can check it out!