I'm not sure how many of you remember back in the day—the pre-blogging, pre computer day—when if you got a little over-eager with punching the keys on a typewriter, one minute you'd be going along fine, and the next minute there were like four keys jammed up and everything came to a halt.
Yeah. That's pretty much exactly what happens to my brain when I have too many unrelated decisions to make at once. So basically, building a house was a good choice of extracurricular activities for me, right?
Here is just one of the decisions I have to make this week:
Fireplaces.
On one hand, I want the fireplaces and I want them now. On the other hand I was kind of hoping we could wait until everything else was done and then worry about picking-out and paying for the fireplaces.
Um… yeah, I didn't really think through that very well and it was probably an early symptom of decision-making denial. So, hey! We need to get some fireplaces!
One for here:
This is the master bedroom leading into the bath, where we'll have a two-way fireplace. Praise be to heaven the day I'm actually soaking in the bathtub with a fire at my feet.
This one actually isn't giving me fits, because I'm not stoking logs up every time I want to enjoy my bath and fire. We framed the wall to accommodate this fireplace, and this is the one we're getting.
In the miracle of fireplaces these days, the thing can direct vent right out the side of the house.
This one is a whole other story:
This is the living room/trim-drying area. We have a big arbitrary hole here that will at some point contain some kind of fire-ish…thing.
Because this is the kind of fireplace I had on Garrison Road, for a long time I thought we were going to get a mason in to do a little firebrick work…
Which made MysteryMan blink at me, expressionless, for a good three minutes. I guess they make inserts for this kind of thing too. My experience with gas fireplaces is limited to back in the eighties when you put gas logs in your wood burning fireplace and huddled up next to it for warmth, so when I went to the fireplace showroom I was all, "What is this fire behind the glass museum-style shit? Um… can I get one of these without the big piece of glass in front of it?"
The sales guy liked that question.
Apparently, folks, fireplaces aren't just about aesthetics and roasting marshmallows these days…. they're appliances. And I could buy two stoves for what one fireplace will cost and just stick one in the living room with the door open.
Here are the only fireplaces I really liked, but I'm still having a hard time with the fake logs/coals/ glass thing…
I did find in the store one set-up that was a wood fireplace insert with some big gas logs in it (no glass, and didn't look half bad, but was like $1000 cheaper than the cheapest full gas insert.
So here's the conundrum:
1.)    We can buy a gas insert, pay the extra $1000, live with the big piece of glass in front of the fire, and easily vent this thing horizontally out of the house. (it would probably be this one)
OR
2.)    We can buy the wood insert with gas logs and save $1000. Without the big piece of glass in front of the fire, comes the necessity to vent the fireplace straight up. With an exterior wall this isn't usually a big deal, but this thing is smack dab in the middle of our house. The front middle. Which means the chimney stack would be located right about here.
First, not pretty. I could box it in, yes, but I may have actually reached my limit of projects I need to complete before it snows in four days. Also, the placement is a little awkward, even for a nice-looking chimney.
Second, it means disturbing the roof, and even though MysteryMan roofed the thing himself and has professional experience… I hesitate to cut holes in our roof and create more possibilities for leakage.
All compounded by the fact that I kind of hate the "brick" they try very unsuccessfully to make the inside of the fireplace look like. I think the complete demoralization of society is due to the pervasiveness of fake things that make such a minimal effort to look authentic that it's a little insulting. Paris Hilton, I'm looking at you. At least something like this just owns its fake-ness with a "hey, I'm not a big woodburning fireplace, so deal with it" kind of attitude. You have to appreciate that.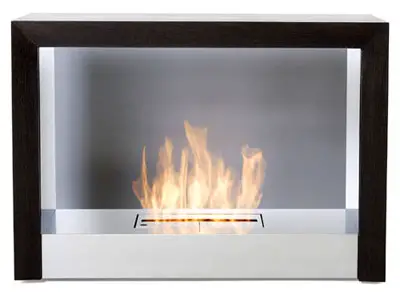 Also, let's make that the first and last time I ever mention Paris Hilton on this website.