In general I like to give high-fives and maybe, if the occasion calls for it, do a little happy dance in my workboots. You could pretty much count the number of times I've squealed in delight on one hand, probably with minimal fingers. But I was in the house chatting with our friend Chief Electrician after work yesterday, when I stopped mid-sentence and screamed three octives higher than normal "oh my god, we've got light!"
Oh my god, people. We've got LIGHT.
I wasn't sure if the cans in the master bedroom were going to be too much, but really… I love these lights.
It could be that for so long we've had to haul one panel of fluorescent lights around and plug them in whenever we want to see after 7:00 PM, or it could just be that having working lights means we're making serious progress on the utilities in the house. That puts us one step closer to insulation and drywall.
Either way, I totally squealed about that warm glow coming from the ceiling, and now I'm admitting it to the whole internet. I think that balances out all the bragging I did about putting a good chunk of siding on this weekend, though.
And, speaking of lights, you may remember that I almost had a nervous breakdown about choosing every single light fixture in the house a couple of weeks ago. Here are a few of my favorite picks, and of course, things that I want your opinion on.
Master Bedroom
We had the four cans on the plan for the master bedroom from the beginning, and I wasn't planning on anything other than reading lamps in this room, until I found this lighting confection at Horchow…
Every other fixture I've been looking at has an older more industrial feel, but I absolutely fell in love with the whimsy of this pendant and I was convinced I had to have it hanging over my bed, until I saw the price and my eyeballs fell out of my head. And rolled across the floor.
I've been dying to DIY a light fixture for some time, and upon closer inspection I think this is going to be my first attempt.
Mudroom Hallway
The mudroom hallway, which will also be our most-used entryway, is the room I have the clearest mental picture of in its finished state.
The left wall running down the stairs will be covered in old barn siding from this beautiful structure, and I'd like to make the closet doors on the opposite side of the hall from barn siding as well.
We didn't actually budget any money for "fancy" lights, as MysteryMan calls them, so all of the fixtures I'm purchasing are coming from my tool fund. Hey, I don't buy clothes often, and a girl's got to splurge on something. I realized pretty quickly I could run up a steep tab on light fixtures, so I've been setting aside a little extra something when I can and I'm letting myself dream big on three areas of the house. This one, the living room chandelier, and the pendants over the kitchen island.
For everything else I picked out lights that I like so we could plan for wiring, but I'm going to be on the hunt for cheaper items, or DIY opportunities so I don't break the bank.
Living Room
I have to say, I was kind of dreading the living room chandelier situation, because 1.) Chandeliers are expensive, and 2.) Chandeliers are ugly. Seriously. It's very hard for me to find something I like, and doubly hard to find something a little rustic that will fit with our style. The only thing that kept coming to mind was a hideous antler chandelier.
It also had to be something pretty substantial with our vaulted ceilings. After some debate I went with the weathervane chandy from Pottery Barn (Edit: Which there is no longer a link to.)
The Dreaded Kitchen
I'm not even calling it "the kitchen" anymore, it will only be referred to as "the dreaded kitchen"  or the "it-takes-half-a-bottle-of-wine-to-make-any-decisions-about-this-room kitchen" until the day I finish it, sometime in 2013.
Since we first put the plans together for the addition and expanding the kitchen I was worried about fitting my dining room table in here. I didn't want a formal dining room, but I absolutely love this table, and it was really the only piece of furniture (other than my heirloom piano) that I wanted in the house.
MysteryMan even made me a to-scale cutout of the table and chairs to try placements on the house plan sometime last winter so that I wouldn't keep up with the "do you really think the table is going to fit in the kitchen" questions every other hour for the next three years.
So.
When it came to measuring everything out to figure out where to put the light fixtures, I had a plan, made a life-size cut out of the table, tried it in the kitchen to figure out exact placement, and when I started up with the incessant "babe, seriously, do you think this is going to fit" questions, MysteryMan squinched up his face and was all… maybe we don't have to keep the table in here all the time.
And then my head exploded.
Here's my beautiful photoshop mockup of said kitchen layout…
Left of the door opening into the mudroom is slated for two closets and buffet cabinets, which takes up a lot of the room on that side of the room. My actual table looks like this…
It's not fancy, it wasn't super expensive, but I like the wood and the clean lines of it. And I was not thrilled with giving it up. But calmer heads (aka my mother) prevailed, and told me to at least consider alternatives. The original plan from the architect included a dinnette table attached to the kitchen island.
So I did what any reasonable person would do at this point, took a bottle of wine and roll of painters tape into The Dreaded Kitchen one Saturday night, and I marked out the location of every cabinet and closet in the place.
And then I did what most people wouldn't do, particularly after a bottle of wine, and balanced on top of the shopvac to take a picture of it.
And apparently I thought I needed photographic evidence of that bit of personal brilliance.
Moving on…
The truth is, with the table and island combined, it opened up the space a lot more. I decided to keep the "table" bar-height because I personally prefer to sit up high (its a short person thing) and because it meant added counter space when not being used for eating, and added table space when not being used for cooking.
My mother's point was, no one sits down at the table unless you're having a formal dinner these days, they'd rather be up where the action is, or in the living room watching sports on TV. (Okay, I added that last part, knowing MysteryMan.)
And even when I have people over, I really don't do the whole formal dinner thing… but with this setup we still have the option to pull out my table and then we can seat 13 fairly easily.
And yes, all of this was a direct result of having to figure out light-fixture placement. And obviously when I changed the entire structure of the kitchen, my originally lighting plan when to hell as well.
One thing I knew was that I was pretty much in love with this double pendant from Restoration Hardware…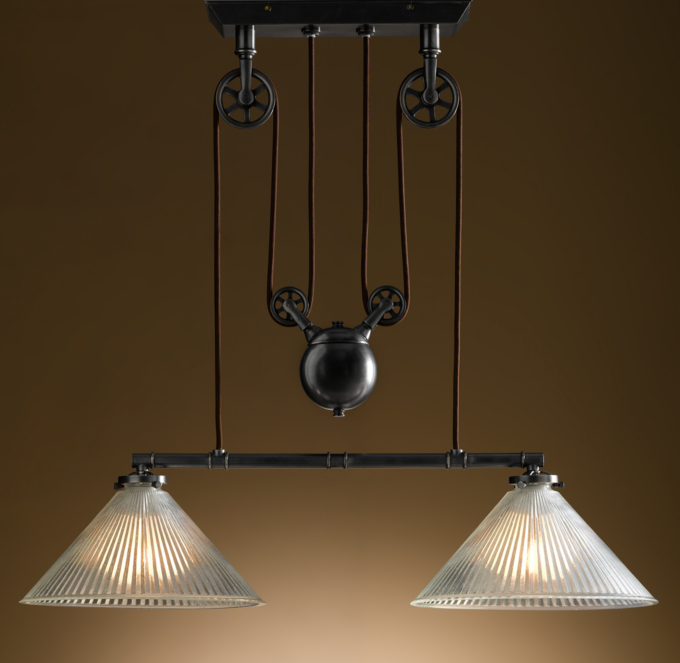 And oh my god I am not making this shit up, when I just refreshed the website to grab that photo this thing went on sale just now as well. I know I'm going to feel compelled to buy something before I finish this post and it is a bad idea for me to be making these decisions after midnight and without the collective input of the entire internet.
…
I had to take a minute there to stop myself from making any impulse purchases. I'm better now.
So.. totally in love with this light, but I wasn't sure how it would work with the new island/table combo. Do I do a double pendant centered over the island and then another fixture of some kind over the "table" area?
I know it's hard to believe, but my very professional rendering there is not to scale.
If I went this direction, I'm not sure what kind of fixture would go best over the table area without competing with the island pendant, so I was also considering two single industrial pendants…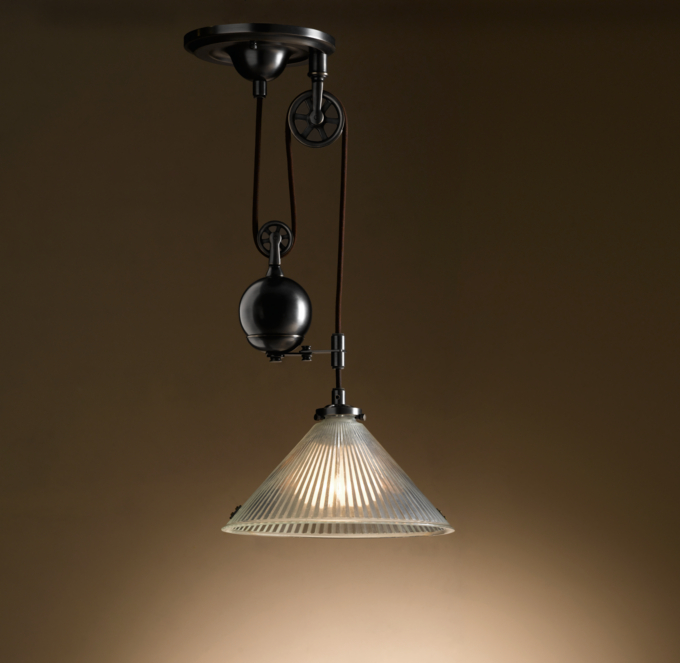 Centering one over the island and one over the table.
Truth is, I like the double pendant better, even though these obviously have a similar feel, but I definitely like the simplicity of one light over each side better as well.
I could center the double pendant over the entire island/table combo, but I feel like having a light on the center of the "table" part is important for some reason.
So what I'm trying to say is, help. Please?
Even if the style of the lights isn't your thing, you've got to tell me, two single lights, or double over the island part with something different over the table?
I'm probably going to hold off on anything for this space, since it's not one of my "splurge" areas, but I still like to have an idea in my head of what I like.
And can you see how something as simple as "where do you want me to put this light box" can result in fifteen new gray hairs and hangover.
Seriously, go build your own house. It's totally awesome.