You know that big swimming pool bath tub of mine? Well, we're a couple of steps closer to installing it…
There's a big hole that needs to be cut in the top of this, obviously.
But we may wait until the durock is on and do that all at once.
Meanwhile, seven feet to the North….
We're diligently planning out the shelving for the master closet.
I'll let you in on a future project I'm concocting, like a witch over her cauldron. I kind of liked the looks of this bed from Restoration Hardware: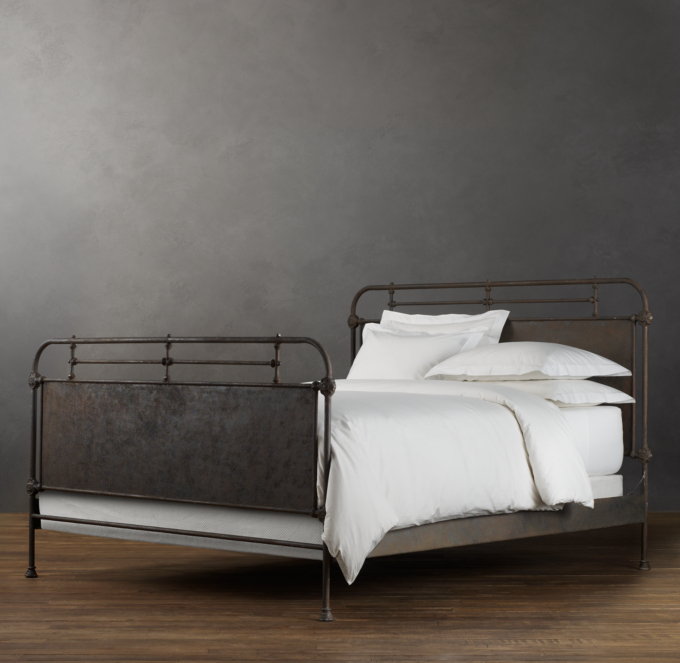 Although it might be just a little to polished for me, I'm really loving the industrial look paired with super comfy fabrics. So I'm thinking I might re-create something like this bed out of gas pipe…
Which is relevant because 1.) it's kind of an awesome idea, and 2.) I thought I could compliment it with something like these shelves from The Brick House for the master closet, which are in the same vein of what I'm considering for the bed, but using smaller pipe.
MysteryMan loves this idea because it requires him to do lots of additional math, but in all fairness I think he'd rather bust out the calculator for "linear feet of pipe" as opposed to "can we afford a thousand dollars worth of shelves for the closet?" (I wouldn't actually spend a thousand dollars for closet shelves, but I would spend a year heaping my clothes into a dirty laundry mountain in the middle of the floor while I waited for some free time to build shelves, which is close to the same thing.)
So, that's what's going on, I'm slightly buried under a six week move-in deadline and 200 lf of gas pipe and rough-sawn cedar trim for the bathroom, while managing a 10 hour per day job and two trips out of state in the next week.
Living the dream here, folks.