"Let's hang and finish some drywall!" Yeah. Here's my guess at the three most common reactions to that statement:
Your face squinched up.
The blood curdled in your veins.
You ran screaming from this website.
Which, I'm not going to lie, it kind of makes me heave a great sigh of resignation myself. On the plus side it can be done without too much money or special equipment and the end result is that you now have a wall where once you had none. Of course, there's always that whole covered-in-drywall-dust-for-the-next-three-weeks thing sitting on the other hand.
Since I've spent more quality time with drywall in the last six months than I have with my pillow, I'll share some of the basics of drywalling tools and techniques here. But I also know that one unhappy googler once found my site by searching "How the f–k do you hang drywall?" and just in case anyone reading this is in enough duress to be swearing into their search engine, you can always skip the basics and check out these posts on specific drywalling techniques instead:
If you're just looking for a laugh I've saved a video of my five-foot-three self trying to get a nine-foot piece of drywall onto a drywall jack in a nine-foot bathroom for posterity here. It's not my most shining DIY moment, but you take the bad with the badass here.
What The Hell Is It, Anyway?
So here's something that should make you feel warm and fuzzy about drywall. Back in the day, interior walls were made from plaster and lath which meant that someone had to nail inch wide strips of lath over the studs to create the walls and then they had to be plastered over.
Which makes mudding a couple of drywall joints sound like a cake-walk, doesn't it?
Currently the interior walls of most houses in the US are made with 4-6″ studs covered with gypsum board. The seams of the gypsum board (which I also sometimes call "wall board" or wallboard, because I'm nothing if not an inconsistent speller) are taped and finished using joint compound, and the walls and ceiling can be left flat or textured with joint compound using various techniques.
All drywall should be finished with a coat of primer and paint. You know, to cover the stains of sweat and blood.
What To Use, What To Use
I don't know that I've used every drywall material ever invented but I've used enough crappy ones to have listened eagerly to the advice of a professional who gave me a little inside info during this whole adventure…
Wall Board – The general rule about drywall thickness is that interior walls use 1/2″ drywall. In some states (like my very own Michigan) you need to use 3/4″ drywall on the wall between the house and an attached garage for fire rating. 5/8″ boards are also recommended, but not required, for ceilings.
Mud- Even though it's a right pain in the back to haul the heavyweight compound around, I prefer it to the lightweight stuff for texturing the walls, but my drywall guru says that lightweight is the way to go for seams and screw holes– and regardless of what you use it all needs to be thinned out a bit with water before using.
Tape- Fiberglass, self-adhesive, not-adhesive, thick, thin, ohmigod enough. While I've used fiberglass tape on joints before, I probably wouldn't do it again once I had the joy of working with this machine (which spits mud and tape on the wall for you with just one swipe.) I didn't even know they made a tool that could do that a year ago, but after seeing it in action I would highly recommend looking for a place that rents one if you have more than, say, two drywall seams to tape. Also, even if you're hand taping, I found the regular old cheap paper tape is the way to go for the best finish.
Corners – This tool will also quickly tape inside corners with regular tape, but if you're hand taping I recommend the stiff tape that folds into a nice edge. Outside corners are a bit trickier because they take more of a beating. My pro recommended metal corners that have a self adhesive flange on each end, which is the most durable option.
Knives – No, they're not for stabbing your significant other with. Its good to have joint or taping knives in a variety of sizes. 6″ for covering screws, 10″ for the first coat of seams and corners, and 12″ for the final coat. Also, making sure the knife isn't to stiff is key.
Sanding – The best thing you can use to sand drywall is a pole sander like this: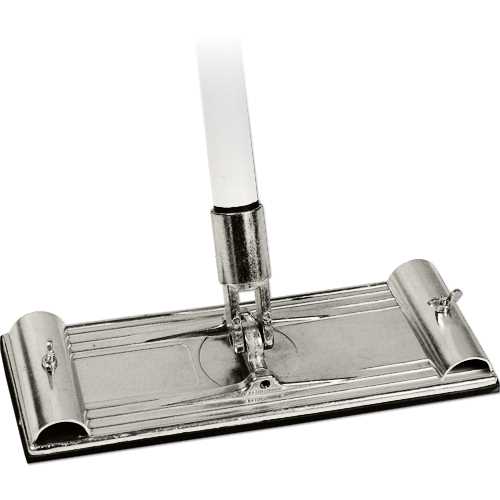 Barring that I would use a hand sander with the same kind of head, and as a last resort those sanding sponge things.
Odds & Ends – For years I would just haul the five gallon bucket of joint compound around the room with me, and then I finally broke down and bought a mud pan, which was one of those "Why didn't I do this five years ago?" moments.
Get one of these and save yourself the *facepalm* moment later. Also having a mixer attachment for a drill is extra handy for mixing up and thinning out joint compound. I also learned that having a 5 gallon bucket with water in it and a large brush is the best way to keep your tools clean without hauling everything out to the garden hose.
The Basics
When I was getting my contractors license a very smart man taught me to think of wall studs as existing purely to hold up drywall and sheathing. When you start working with drywall, it helps to understand the basic structure of your wall. There should always be a bottom plate (2×4 or 2×6) that runs along the bottom of the wall, along with a top plate ( two 2×4's or 2×6's) that run along the top of the wall. If the house was built in the last 30 years or so it's likely that the studs are spaced 16″ on center– from the center of one stud to the next. With older houses, it's anyone's guess, but studs can be up to 24″ apart. For more information on wall framing, check out this post.
Hanging Wall Board
What all this stuff about wall structure means for drywall is that when you're hanging wall board you'll be able to hit wood almost anywhere within the top 2″ of wall, or the bottom 1″, but in the middle of the wall you'll only find studs every 16″ or around windows, doors, and corners.
For more detailed information about hanging wall board, check out this post, but if you don't want to strain your finger with the extra click, here are some tips:
The ceilings should go on first. Use a drywall jack so that you don't hate your life when you're doing this.
Work from the top down.
Stagger your vertical seams, so if you start with a full 8′ sheet on the top row, start with a 4″ sheet on the bottom row.
Always begin and end on a stud.
Use drywall screws (or nails, if you have something against your drill) and make sure they are long enough to penetrate at least 5/8″ into the stud.
Screws should be used every 12″ on walls, and every 9″ on ceilings. Screw them in just tight enough to slightly indent the paper without tearing it.
Wall board can be cut with a regular old utility knife and a straight edge.
Screws & Seams

Side note: Would that or would that not be an excellent band name?
As far as screws go, filling in the holes is pretty easy. Just a swipe of  thin mud over the screw hole, let it dry, and then hit it very very quickly with a sanding block. If you're texturing the walls like this, that's probably good. If you're going for perfectly smooth walls you'll have to do one more coat on the screws and another light sanding.
Seams are another matter entirely, and if you're getting ready to finish some you really need to read up on these tips I weaseled out of a pro. Here are a few things to keep in mind, but seriously go read that post.
Mix the mud with a bit of water first so it's nice and smooth
Use an automatic taper if you get the chance, if not I like putting paper tape on with a 6″ knife. Just a little mud on the wall first, then press the tape into it with the knife
Unlike with screws, finishing joints is all about putting more mud on the wall than you would think, then removing the excess with what I like to call the three-swipe method. (Must I say it again? Read this please.)
The first coat should go on with a 10″ knife, the second coat with a larger knife
After the first coat dries, sand and repeat the process, making the joint even wider. Finished joints should have about 12″ wide.
Texturing
My favorite part about finishing drywall is adding a little something fun to the texture. Not only does this hide any imperfections but it has a great look. I've got a whole post on texturing here, but again, here are the basics:
You don't have to cover every inch of drywall with joint compound
Very thin texture has a lot of impact, put the joint compound on too thick and it will crack as it dries
People will look at you weird when they see it in progress, but once the first coat of primer is on they'll be oohing and aahing over it, trust me
And that, my friends, is the not-so-horrifying world of drywall. It is time consuming, but a great way to save money on a home renovation project and get a little dirty while you're at it.
Got any dry walling tips? Leave a comment and let me know!