I can't tell you how many times today I've had to reach my hand into the sump crock and manually turn on the pump to drain the inch of standing water out of my basement, but I can tell you this… it's disgusting. So let's talk about something way more fun and way less likely to make me gag.
Like the Living Room, for example.
I'm still moving a lot of my junk (read: tools, books, and books about tools) in, but the big pieces of furniture are in place. Along with the cat.
I think the word I'm looking for here is "bland." That's something I've historically counteracted by leaving scaffolding and tools in the middle of the living room, but I guess since there is actual carpeting in here it's time to take a little more grown-up approach.
I've mentioned before that I'd like to be a little more colorful and eclectic with the style of the new place I'm building, and I'm going to try to furnish and decorate the rental with pieces I'll be able to use in my loft eventually.
Previously "adding color" to a room meant I painted the walls red, or yellow, or blue, depending on my mood that day, and then used neutral window treatments and furniture to balance everything out.
However, I'm actually really loving the look of white walls with colorful accents elsewhere in the room, which works perfectly for this rental. I actually started by painting the walls Moonlight White (thanks to Layla at The Lettered Cottage— the queen of white walls and colorful accents– for sharing her preferred shade of white)
Since I do love the way it turned out, if I go white in my barn loft, this is the color I'll be using.
The one tiny problem with white walls however, is that until you put something on them, they look like a big blank canvas… and that gives me all kinds of dangerous ideas. Here are a few of them.
(Ignore the cat please, he's really enjoying having carpeting in a house instead of bare wood subfloor.)
For this wall, just to the right of the closet (the door is MIA, by the way, but it's cool, my coats add a little color to the room) I'd like to do a gallery wall of sorts, but instead of putting a dozen holes in wall that will need to be patched later, I'm thinking of creating a portable barnwood gallery wall.
This would lean against the wall and be anchored at the top. And then I'd convert a barn light to use a plug, and fill the thing with some of my favorite old tool and barn pictures, like these…
If I'm extra smart I'll keep the height of this thing under standard door height so it's easier to move. I'll also want this to work somewhere in the new loft so before I break out the tools I'm hoping to finalize the basic layout of that living space to make sure it will fit somewhere.
Also, on back wall of the hallway to the right of the barnwood gallery, I'm envisioning a large (and also leaning) piece of branch art…
Similar to this piece from Cleverly Inspired. (If you're going to pin this, any you know you want to, please click through to Cleverly Inspired first so the right site gets credit.)
But way way larger.
As for adding in some other color, the end-tables-pretending-to-be-a-coffee-table are going to get a coat of paint.
I'm using these plates as the inspiration for my color palette…
And I'm thinking the blue in the rabbit will be perfect for the tables, paired with some metal bins like this (except not at $150 a pop. Christ.)
The couch isn't exactly my style, but at $0 (since I'm borrowing it from my Dad) it was right in my price range. I'm hoping to soften it up with a throw and some curtains, but I can't decide exactly what I like. I do things like this to windows, not hang curtains around them.
Here are some things I'm considering: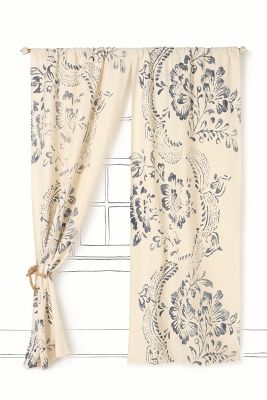 Or fabric like this….
And I'll be building a new coffee table, again, once I figure out what will work in the new loft space. But I'm thinking either wood or metal. (As opposed to, I don't know what… cheese? Which, actually that does sound kind of awesome.)
If I could find industrial style metal cabinets, I'd build something like this in a heartbeat.
Hopefully by Christmas, this place will be looking less bland and a little bit more like home.