I am, as predicted, dirty and sore and tired and a little sunburnt and, honestly, do you want to know how I feel? Holy-effing-amazing. AMAZING. I mean, I cannot use enough capital letters to express how awesome right now feels. And I want to be clear about that because in the last five, or six, or seven months I've felt okay about things. I've felt good about a few things. But there's this holy-shit-that-was-AWESOME feeling that has been missing from all of my projects lately.
If you know that feeling I'm talking about, then you might also know how absolutely terrifying it is when it goes away. And if there's a secret formula to bringing it around again, I don't know what it is… but I do know that if I slog through the shit– when it's hard, and the work pisses me off, and I can't find my rhythm–if I stick with it long enough, I have days like this.
I have days, like Friday, where I'm just a little ahead of the game. Where I've managed to do some research and make a decision about the next tool I'm going to buy (AND where my darling man offers to pick said tool up from the shop for me, saving me an hours worth of driving on Saturday.)
I have days like Saturday, where I wake up refreshed, excited, and ready to go. Even if "go" means spending a lot of quality time with my new tiller.
More about my choice regarding this particular piece of equipment later, but it was a good one.
Saturday morning the beds on the interior perimeter of the garden fence were looking a little, ah…
Not awesome?
And I had a ton of plants that had been living out on my back deck for a while that needed to be planted. Not just because the little Nugs just discovered where they were and thought they were delicious… but kinda.
Nugs. Such troublemakers.
Also, when my mom asked me what I wanted for my birthday a few weeks ago I was like, "How about a couple of berry bushes for my garden?" A couple. So she bought me, um, eight. Eight berry bushes. Because, like me, my mother does not do things by halves.
So I did a lot of weed whacking. And tilling. And then…
You guys we did so much planting on Saturday. This is what my mom's car looked like when she showed up at my house…
We planted five raspberry bushes, one blackberry bush, and two blueberry bushes…
I might have snuck a couple during planting.
(The plants came from Backyard Berry Plants if anyone is looking for a good source for organic berry plants and/or a ton of information on planting and caring for brambles.)
This is the North side of the garden with 6 berry bushes (and a couple of random tomato plants) in the ground.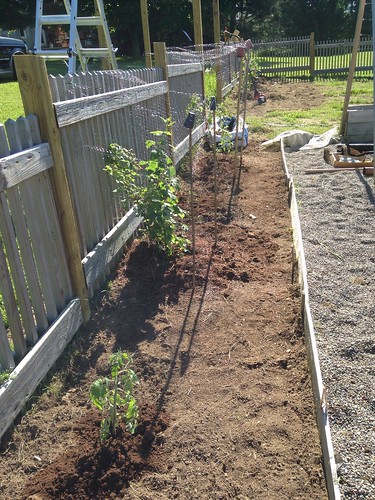 Then I tilled up the West border bed to use as an herb garden.
We planted a couple of things…
There are actually two blueberries, three more tomatoes (the total is 14 tomato plants right now, for anyone keeping track) a couple of lavender plants, basil, oregano, mint, cilantro, parsley, dill, thyme, rosemary, and a few miscellaneous eggplant and pepper plants that I ran out of room for in the other beds here.
It seems like such a small amount of space when you look at it in context of the rest of my property, but I'll be dammed if that isn't close to 100 linear feet of of garden that we planted.
My mom also weeded all of my existing beds and gave them a good coat of peat moss because she thinks it makes them look awesome (and she's right!)
Another brilliant thing my mother did was this…
So, I have a pretty big garden that's a good two-hundred steps from the house, or, like, a chair…
But my mom found some of the tops from the fence posts that I cut a few weeks ago, and it turns out when you set them across the corner of the raised beds, they make a perfect little spot to sit and recover think, when you need it.
Simple ideas are sometimes the best. It never hurts to be reminded of that.
Sunday I tilled more garden space. (Two rows of corn and some lettuces went in here.)
Can't tell you how much fun I had with my little tiller?
I had the opposite amount of fun with the post-hole digger putting in my LAST raised bed. It's not even that digging eight, ten-inch holes is that hard, but for some reason I just hate it. (Could be that I've had to dig 64 of those holes for all of these beds over the last two years.)
The good news is, once the last bed was in place I could get the landscape fabric and gravel in place for the last of the walkways.
So. Much. Shoveling.
And I just want to take a time-out here and say some awesome things about my trainer. A year ago I was struggling pretty hard-core with the realization that I'd always thought of myself as (and had previously been) a physically strong woman, but I'd lost a lot of muscle and put my body through some shit in the previous years and it turns out I was not that strong at all. There was a period of time where I was working out because of what I thought I should look like and not because of how it felt, and it really just made me tired and angry and resentful about "exercise."
When I finally came to my senses, I thought a lot about the things that made me feel physically awesome. One of the very first things that came to mind was this weekend, two years ago, when I filled up an entire dumpster, by hand, through the sheer force of my will. So instead of "working out" because of the number of the calories it burned, or because it was supposed to make me look a certain way, last fall I started lifting weights– like hard-core lifting weights– not for toning or for cardio, or any of that bullshit, but because I wanted to be stronger. I wanted to be able to physically lift, and hold, and haul, and dig, and maneuver some seriously heavy shit, because it turns out that that's a thing that makes me feel incredible, regardless of how I look.
I work with an awesome trainer (who makes me do a lot of stuff I don't want to do– like lunges– and has a good enough sense of humor to laugh when I swear at him for it) and I'm sure I couldn't have done close to 20 hours worth of work digging, tilling, shoveling, and hauling 5-gallon buckets of gravel and soil around the garden this weekend without even feeling a little fatigued if it wasn't for all that time I've spent in the gym. And, listen, I'm not a fitness guru, and don't want to push the diet-and-exercise shit on anyone… that's not my thing, and mostly anything anyone tells you about it is bullshit anyway. But something that was very important in my own story was realizing that there was an actual point to using my body. There was a point to being stronger. Absolutely none of it had to do with aesthetics or that "5 tips to 6-pack abs" shit you see all over the internet.
All I'll say is that it's made me feel awesome and empowered, and a girl can't ask for more than that in the world.
And it certainly helped with this…
The garden isn't as done as I hoped it would be, before I headed in to this weekend. There's still a good amount of ground to till (and some pumpkin and strawberries to plant), but when I look back at what my garden looked like this time last year…
I sure am proud of the progress.
And, you know, pretty happy I got to spend some time with these guys too…
It was a really fantastic weekend, full of good, hard work, and the promise of more awesome things to come this week.