I know some people like throwing horseshoes or beanbags around, but out here if I'm going to throw something at a target it's going to be slightly more dangerous, and a lot more fun…
Like arrows.
Or axes.
Or knives.
The arrows aren't a new thing… I've had an archery target set up on the property for the last couple of years. The first year it was a couple of straw bales in the middle of my back yard (which were a pain in the ass to mow around, and also killed the spot of grass they were sitting on.) The second year I tried a more portable foam target set up against the garden fence (and ended up splitting a couple of fence posts and losing a number of arrows.)
It became clear that I was going to need some kind of portable target that could be easily moved around the property, so a year ago I started brainstorming ideas, but never really got around to building anything.
Then, for Christmas this year my dad got me throwing axes and knives… which is just what every girl needs, obv.
And after using the dwindling wood pile behind my barn for target practice a few times, I knew I needed to get a real target set up, so I scoped out a few options for bases and settled on this garden wagon with detachable sides from Menards.
The nice thing about this wagon is that the handle has a regular hand grip, or can be fit to a mower hitch to tow it around. It also holds something like 200 lbs., and has all-terrain tires.
I bolted a piece of scrap OSB (3/4″) to the bottom…
Then framed out the target area (roughly 5′ from the deck of the wagon) with some cedar 2×4's, with enough space so that I could fit a couple of straw bales on one side of the platform.
Then I added cedar deck boards for the backstop (leaving about 1/4″ between boards so some wind can get through).
(There are also some 45-degree braces to make sure it stays vertical which I added later, so no in-progress pics of those.)
Then I built a couple of "wings" that can be folded up when moving the target around…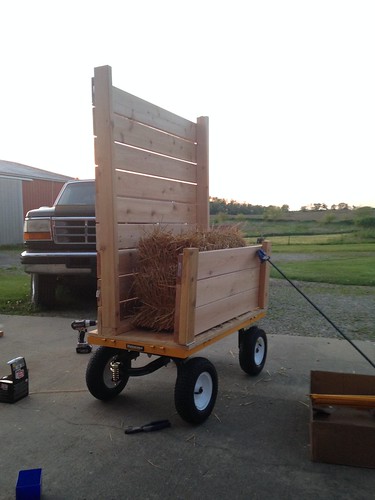 And, when folded down, add vertical stability to the whole target while also protecting the wheels.
Genius, right?
I've got some 18″ bungee cords that hold them in place when their up, and I also bought some metal stakes that I could use to stake through holes in the wings to secure it to the ground if necessary… it's really not necessary thought because they work really well on their own, and we've put this through the paces.
On the other side of the target I mounted a slice of wood for the knives/axes…
(Yeah, my building skills are better than my aim at this point, but I'm working on it.)
I thought it was going to be so heavy that I'd have to use the mower to pull it around, but it's actually super easy to just move by hand… it is a little top heavy with that chunk of pine attached to one side though. I may build some counterweights underneath the wagon to keep it stable when moving, but for now I just take it easy or ask someone to stabilize it when we move it from place to place.
All told this took 3-4 hours to build (start to finish) and around $200, most of which was for the wagon. It can easily be moved to different parts of the property depending on what we're doing, and packs away into a relatively small space in the garage.
And, let's be honest, after a long day, it's fun to have an excuse to drink a couple of beers and throw some axes at things.