Maybe I've mentioned this a time or two before, but I've got a small compulsion when it comes to buying tools. I spot a biscuit joiner while walking down the tool aisle, and I need that thing the way other girls need new shoes. Weird, I know… but think of all the damn stuff you can use tools for, while heels just give you blisters. So really, who's the weird one here?
Oh, I'm sorry… is that one of my Miniature Donkeys giving me bunny ears in this photo? I am definitely still the weird one. Pratical, but weird.
Let's talk about tools, shall we?
Ben A. had a good question for me that I'd love all you tool aficionados to weigh in on.
I was reading your post on "What's in Your Tool Box" and was curious what brand/size  your soft tool bag is. I'm in the market for one and not sure what to purchase. Also, I need a standard tool pouch with a belt or able to fit on my own belt for simple to complex DIY projects around the house. Do you have one that you like or would recommend?
Since I currently live in a glorified garage, organizing my tools has quickly become a favorite past-time. Here are some things I love:
AWP 12″ Monster Mouth Tool Bag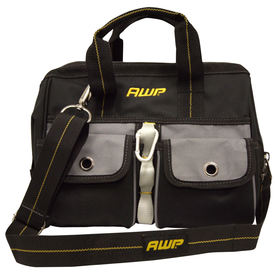 This is my portable toolbox, and almost always contains:
the Makita
3 boxes of drill bits
tape measure
torpedo level
miscellaneous screwdrivers and pliers
half my body weight in sand paper scraps and sawdust
It carries way more than you would think, and costs under $20.
Tool Bucket Organizer
Here's another of my favorite tool organizers for under $20…
My dad actually bought me my first bucket organizer when I bought my first house, and pushed me along that first step down the slippery slope to oh-my-god-I'll-die-without-that-drillpress. Thanks Dad.
These things are dead handy for collecting tools and also keeping them portable for around the house projects.
Husky 8-Pocket Tool Pouch
This small pouch is my most often used toolbelt (though I recently inherited a big leather belt from my grandmother, which is also sure to be a favorite). It's under $10, and small, which is particularly important to vertically challenged people like myself. Also, it doesn't get in the way of important things like hitting stuff with my hammer.
I also have one of these handy clips attached to my belt. They're dead handy for holding the drill and can also be used on a regular belt or waistband for even more flexibility.
Note: If you're pants are a little loose, this could result in unintentionally mooning the busy road right next to your house. Not that I would know.
Moving on…
Tell me, what's your favorite way to carry, store, and organize tools? Any favored brands of tool belts out there?