I snapped this picture out of our front door last weekend, just minutes before an electric pole was knocked down across our street—bringing down with it our ability to turn on lights and flush the toilet—and stayed there for the next 24 hours.
I'm not going to say anything about the fact that it took the utility company twenty four hours to remove a pole that was lying across a fairly busy highway blocking traffic, and that's only because it was significantly less time than the five full days it took to restore power during the ice storms this winter.
The prospect of another week of hauling gallons of water in the house to flush the toilet (out in the country if you don't have electricity, your well doesn't work) and hauling water out to the donkey pasture, and that pesky business of not having heat in -5 degree weather, or not having AC in 90+ weather, was enough for us to break down and finally buy one of these.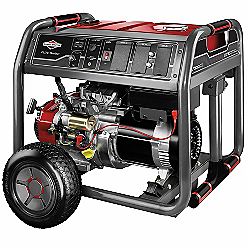 So. I have this slightly neurotic tendency of daydreaming about what would happen if unfriendly aliens descended upon us one day, or the zombies took over, or generally apocalyptic things happened that required us to go into commado mode quickly. Usually while doing some mindless task like sanding baseboard or grouting a floor, which tells you how much time I spend thinking about this stuff. I've already mapped out my looting route—the top five places I'd hit, and what I'd get from each of them.
Peanut Butter
Antibiotics
Chocolate (Seriously, do you know how many Hershey bars you'd have to haul out of a grocery store to make sure you've got a lifetime supply? Even if you're life expectancy decreases seriously due to the presence of zombies, it still requires some planning.)
Ammo
Gasoline
Number 5 on that list used to be "chickens", but it's likely anywhere you'd steal chickens from is a place that also contains a redneck on high-alert and his shotgun (and I could trade some ammo for a few chickens anyway) plus now that we've got a generator, the gasoline will be infinitely more important for things like lights and the ability to keep blogging throughout the apocalypse.
The cat likes to think of these end-of-the-world exercises of mine as further proof that I am, on occasion, completely batshit crazy (like he can talk). I like to think of them as being one step ahead of the poor saps that will be huddled in their basement without any chocolate for the rest of eternity, but whatever.
The important thing here is that regardless of my alleged mental state, it was clearly time to make the big generator purchase… the one "disaster preparedness" everyone can agree on. Other things I think everyone should add to that list are:
Solar AA Battery Charger
Shortwave Radio/Flashlight/iPod Player
Solar Oven
AK47/Rocket launcher
The rifle-rocket-launcher combo isn't included in FEMAs emergency supply kit suggestions, but seriously… I'm going to have to protect all of that chocolate somehow.