Yesterday, I thought my property contained a lot of wood. There's the barn wood stored in the pole barn. The wood my dude just salvaged from a different barn. The stack of burning wood out by my bonfire pit. And enough sawdust in my workshop to swim in. A lot of wood, right?
Then this happened…
And I was like, okay, no, I used to have a little wood on my property but now, now I have a lot of wood.
Sooooooo much wood.
Here, let me put this in perspective for you.
Yeah.
If you're wondering what in the hell I'm doing with that much wood on my property… clearly I'm building a log cabin.
That joke doesn't even work, does it? Because I bet no one who reads this website would actually be surprised if I started building a log cabin right now. I'm not building a log cabin, this is wood that is going to be cut, split, stacked, and will feed my wood stove. Well technically it will feed my neighbors wood stove since he actually has one, and I'm hoping it will feed my hypothetical wood stove (which does not currently exist on my property.)
Wait. Actually, that's a lie. I do have a small wood stove for my shop last year and never hooked up because… I'm lazy? Probably lazy. Or because I was shoveling and plowing myself out of this property for 3 months straight. Anyway, there's that little stove that needs to be hooked up. But my real intent in splitting (pun intended?) this load of wood with my neighbor was to help heat my big-ass old house that currently runs on fuel-oil. Because for me the entire winter is basically like filling up the gas tank of a car, repeatedly, except it's a 400 gallon tank and when it goes empty my pipes freeze. One of the many joys of country living.Also…. I'm a little bit of a prepper. Some of that is just the nature of farm life, and some of that is because I'm a control freak. If the power goes out and the tank goes empty and we get four feet of snow out here (miles from any proper road) I damn well want to be able to heat my house. Plus I love the smell of a real wood fire.The one big flaw in this plan, however, is that I don't currently have a wood stove in my house.
I've always planned to put one here, in the kitchen…
And in order to do that I need to put temporary not-plastic flooring down, or, better yet, the actual real floor I intend to put in here…
I've been pretty much set on brick or terra cotta tile for this floor since the beginning, and I ordered these samples from a place that cuts brick veneer from actual bricks (which gives them a nice, smooth finish.) I'm not completely sold on this yet, but close. And, of course, if I'm thinking about putting new flooring down, I should probably paint the cabs first, and if I'm going to paint the cabs I should probably reconfigure a couple weird parts of the kitchen while I'm at it, and… you see how these projects take on a life of their own. (And why I hesitate to start them.)
Because now I'm looking at painting cabinets and putting in new tile and finding/buying a new wood stove, and oh, yeah, let's not forget about actually cutting, splitting, and stacking this…
Or, you know, on second thought, I may just have a really big bonfire…
While I'm decided on which path to take there, I am looking at wood stoves and trying to decide what my price-range is, and what I'm really looking for.
I think this Vermont Bun Baker is my first choice…
The price of that one might not be my first choice, though, so I'm also considering (at 1/3 the cost) something like this Timberwolf…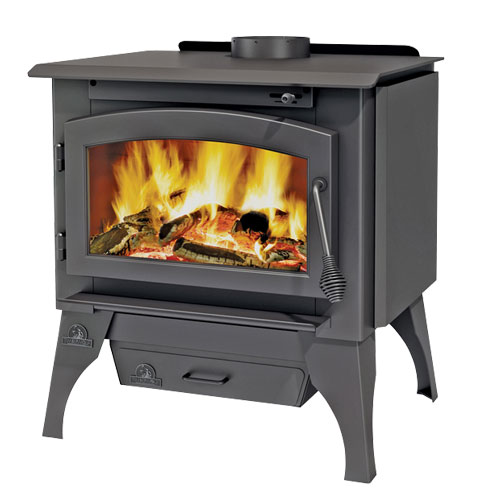 So many decisions, and I still have a ton of "outdoor" work to do before I take on a big project like this, but the delivery of 40 tons (literally) of wood to my back yard has at least gotten me thinking about this project.
And how awesome I'm about to be with an axe. (Just kidding. My neighbor has a wood splitter.)