If I was the kind of person who did things in the right order I would wait until after I publish the 14 gazillion word post on my "themes" for 2013 that is currently in my drafts folder before I show you the twelve foot long desk that I built (in 90 minutes, for like $50), but I'm too excited about the desk to wait.
Suffice it to say, instead of resolutions I've picked twelve themes for the year (one for each month), and the theme for January is "Get Your Shit Together". Because this is what my life looks like right now…
Workbench:
Temporary workspace with home laptop:
Temporary workspace with work laptop (and assorted googly eyes… don't ask):
Clearly the problem here is that I just don't have enough horizontal spaces in this house on which to set shit, and not that I'm an organizational trainwreck. Clearly.
I decided what I really needed was a desk that spanned one whole side of my office/workroom (making it twelve foot long) that had two "workstations", one where my computer can be set up, and one where I can go old-school and take pen to paper if I feel like it, or, you know, pay my bills.
Now, you know I'll take a few weeks to build some fancy, well-thought-out piece of furniture, right? This Pottery Barn inspired vanity I built for the Memorial House being prime example. But I'm drowning in my own clutter here, and I don't have a couple of weeks to build a desk, so the question was, what's the quickest, easiest way I can get this done, and still have it fit with the room?
So here's what I did… I bought 6 2×10's (just regular pine lumber) and a couple of 2×4's, and spent about an hour in my twenty-degree workshop banging the parts for a desk together.
The "parts" basically consisted of one support that looks like sawhorse.
This is not a complicated design. I could have lapped these joints (like I did with the picnic table) or, you know, actually used a pencil while building this thing… but I did not.
The legs of the sawhorse are cut at a 15-degree angle, and it's about 25″ from tip to tail.
Then I set it in the middle of my office, and laid the 2×10's across the top (resting on the chair-rail that runs the room at exactly the right height for a desk.)
Voila! Desk.
Well, actually I had to trim down the sawhorse a bit because I built this on the fly so I didn't take into account things like the baseboard heater in my measurements, but after that and a couple of coats of paint (the same white in satin that I used on the trim)…
I mean we're not talking about some fancy Edwardian desk here, but then again, I'm not exactly Queen Elizabeth.
It took me about 2.5 minutes after it was dry to have it half-covered in junk.
I mean, you know I had to make a little sawdust in here, just to christen the thing, right?
That little hole is for the computer cords. I'm going to rig something up with zip ties to fasten the surge protector under the top of the desk, eventually.
You might notice that both my PB inspired pinboard, and pallet filing crates made it out of storage… at least temporarily. This is far from a finished area, but I can't even tell you how nice it is to have a spot to work. Originally I expected this to be a temporary desk (for a year or two) until I could loop back around to this room and build something "for real", except even after a day this thing is already growing on me.
Up next will be chairs, shelves, and some other storage solutions. I'm polling the cat for his opinion…
Because if he disagrees with any of my decor decisions, he may bring a live bat into the office and release it so that I have to go all Neo from Matrix while trying to catch it in a basket. Oh wait, he already did that…
(Good news, it was not 3 AM like last time, and the bat was fine… he totally flew away after I snapped this picture.)
Anyway, the other thing about those chairs is that, I plan to use two machinist stools (also in gunmetal with the wood seat) around the workbench…
And that might be a little matchy-matchy for me in this room.
Jury is still out on the seating situation.
Since there is plenty of room under the desk as well as on top, I'm also thinking about getting one or two of these filing cabinets from Crate and Barrel, that will fit perfectly underneath.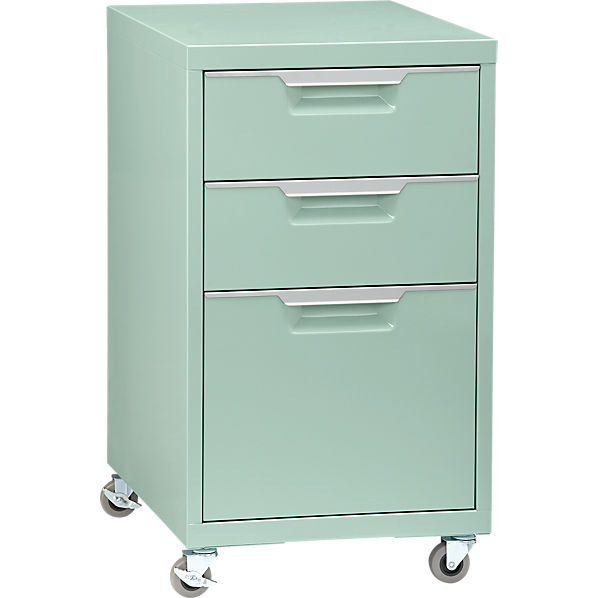 And then there's going to be all sorts of shelving going on the walls on either side of that oddly off-center window. So I've got some figurin' to do before my workspace is fully set up and functional, but the desk was the first and biggest challenge. And, even better, I got to check another thing off my list…